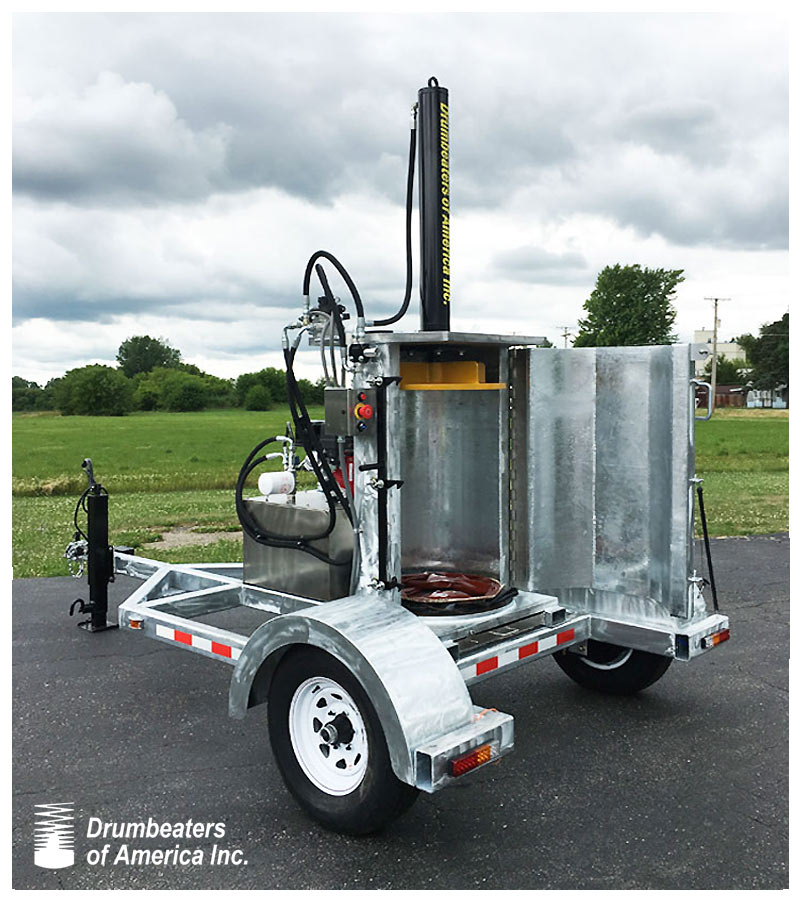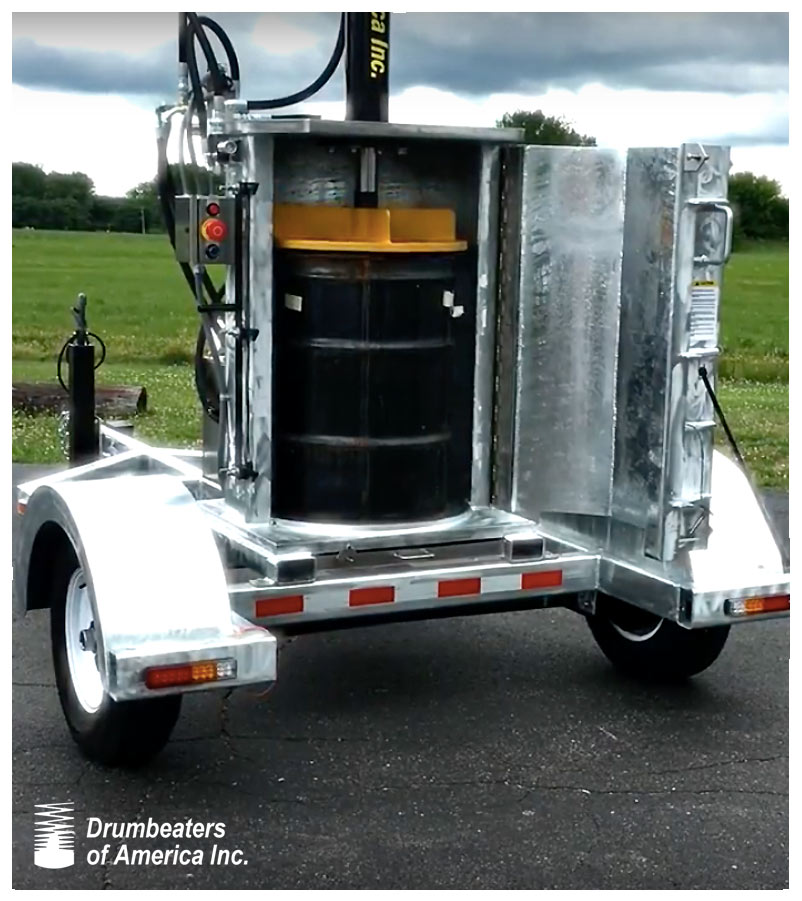 ---
Portable Drum Crusher DC6000-11
The Portable Drum Crusher Model DC6000-11 Gasoline Engine is a heavy duty drum crusher mounted in a trailer. It is for use in multiple or remote locations where the electrical supply is limited or unavailable. This system will crush a 55 gallon drum down to 3.4" in height greatly reducing storage space requirements and transport fees.
The unit comes with 11.7 horse power gasoline engine, hydraulic door safety switch, and an oil sight gauge with temperature indicator. Heavy duty construction, all structural components are made with heavy steel plate
---
Standard Features
11.7 hp gasoline engine
Max Crushing force 60,000 pounds at 3000 psi
Crush 55 gallon steel drum down to 3.5"
Cycle time of 28 seconds
40 gallon hydraulic tank
Directional Control Valve
Drum ring locator, keep the drum aligned
Drip Pan for Liquid Containment
Galvanized Finish
Portability: mounted on a trailer
Safety features to comply with OSHA
12 Volt Battery (Included)
Heavy Duty Steel construction
Unit Height: 10'-5" (317.50 cm)
Unit Length: 14'-9" (449.58 cm)
Unit Width: 7'-4" (223.52 cm)
Unit Weight: 3500 lbs (1587.6 kg)
Available Options
Hydraulic push button controls
Quick disconnects for the hydraulic lines for easy set up and tear down
Spare Tire and Rim
---
---
About Drumbeaters of America
For over a quarter century, Drumbeaters of America has been designing and manufacturing systems that can wash, rinse, and crush drums, pack drums, remove residues from containers without increasing the waste stream, provide closed loop dispensing systems for viscous and air sensitive products, remove oil from soils, drill cuttings, and surfaces, and many more application solutions.
Drumbeaters of America Inc. specializes in engineering and manufacturing systems for industrial companies to reduce the volume of waste products generated in manufacturing, to transform the waste products so that the waste products can be recycled, and to preferably totally eliminate all wastes.
With Drumbeaters selection of equipment, all the necessary capabilities to properly remediate a wide range of waste products and to prevent the generation of waste are available. This is particularly important for companies wanting to achieve and maintain ISO 9000 and ISO 14000 certification.