IBC Tote Washer - Mobile Platform
Drumbeaters of America Inc. has engineered a unique and self-sufficient IBC/Tote Washing System that is mounted on a trailer to travel to where the IBC's/Totes and drums are located. Two (2) IBC's/Totes can be washed at one time with an estimate of 15 to 20 IBC's/Totes per hour.
This system has its own 65 KW generator but can also be operated using a facilities electrical power. Some of the special features are as follows:
Two Heating Systems to heat the wash fluid
Two IBC/Tote (& Drum) Wash Stands
Two Stainless Steel Pressure Building Wash Pumps
Two Stainless Steel Bag Filters
Power - 65 KW Diesel Generator or connect to facility electricity
Multiple stainless steel return pumps
PLC & Push Button controls
Multi-Media Filtration System to clean the wash fluid.
304 Stainless Steel Cladding
Sump & Wetted Surfaces – 304 Stainless Steel
Base Structure – Carbon Welded Steel with Galvanized Finish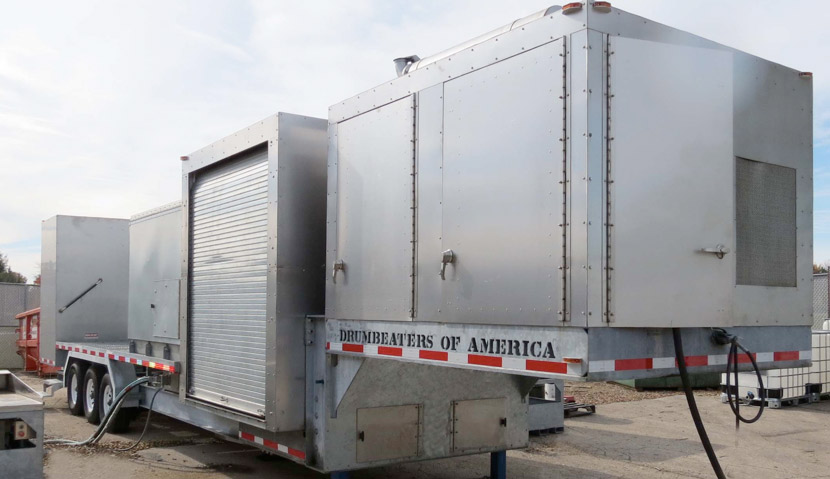 ---
---
---
---
About Drumbeaters of America
For over a quarter century, Drumbeaters of America has been designing and manufacturing systems that can wash, rinse, and crush drums, pack drums, remove residues from containers without increasing the waste stream, provide closed loop dispensing systems for viscous and air sensitive products, remove oil from soils, drill cuttings, and surfaces, and many more application solutions.
Drumbeaters of America Inc. specializes in engineering and manufacturing systems for industrial companies to reduce the volume of waste products generated in manufacturing, to transform the waste products so that the waste products can be recycled, and to preferably totally eliminate all wastes.
With Drumbeaters selection of equipment, all the necessary capabilities to properly remediate a wide range of waste products and to prevent the generation of waste are available. This is particularly important for companies wanting to achieve and maintain ISO 9000 and ISO 14000 certification.